Celebration hosted by the Brazilian Organizing Committee
Date:

_

October, Tuesday 25
Place:

_

Costa Brava Club (6,4 km from Windsor Barra da Tijuca hotel)

Transportation

:

_

Departure from Windsor Barra da Tijuca Hotel to Costa Brava Club will be from 05:30 pm to 06:30 pm
 

_

Departure from Costa Brava Club to Windsor Barra da Tijuca Hotel will be from 09:45 pm to 10:45 pm
Dress code:

_

Informal/Casual
Participant:

_

All delegates and their spouses and the press

Badge

:

_

Is mandatory to enter the Annual Dinner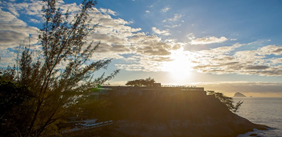 Costa Brava Club is located between the see and the mountains: one of the best city views of Rio de Janeiro. The club was designed by the architect Ricardo Menescal in 1963, in a period where there wasn't pollution, environmental protection and green culture, developing a project not aggressive to the region.
At first the participants will enjoy the sunset at the rooftop. Typical Brazilian food will be served while people can enjoy the view. After that, the party will continue in another part of the club, with show music, Brazilian food and drinks. Finally the party will become a Brazilian Carnival. Because of that the women will have a make-up booth available to be in the moody of the party.   
The Brazilian Organizing Committee is committed to offer a great time for you! Hope see you soon!!!
PROGRAMME OF ACTIVITIES 
| | | |
| --- | --- | --- |
| 17:30 hrs | _ | Departure of the buses to the Costa Brava Club |
| 18:20 hrs | _ | Welcome reception on the terrace to see the sunset |
| 19:40 hrs | _ | Cocktail show - casual (no seating map) |
| 21:45 hrs | _ | First bus back to the Hotel Windsor Barra da Tijuca |
| 22:45 hrs | _ | Last bus back to the Hotel Windsor Barra da Tijuca |



Brazilian Celebration: makeup booth